6 Super Insightful Tips for Local PPC and SEO
A Stategic Guide for Mathnasium.com
How to Get Found Online By People Who Need Your Services
The Good (better than good)
The Mathnasium model works. 65% of new prospects who walk into a learning center end up converting into customers. This advantage is unheard of in the world of digital marketing, where the average conversion rate on an e-commerce website is between 2%-3%.
This simply means we need to drive the right people into your centers and the Mathnasium Method and Story, coupled with national brand recognition sell themselves.
The Bad
Converting online users into store visits is not so easy. Web Visitors (clicks) do not equal store visitors. Let's use an example:
Let's say a web visitor searches for a math tutor and ends up on your learning center portal – that would theoretically be great, right? But what if that visitor was located 75 miles away? He would most likely not become a client, and you just wasted about $4 on that click.
Another example; Let's say a web user searched for "Math Homework Help Cheat Sheet" that click may also end up on your website, while the user was simply looking for some type of homework help.
Let's ask a rhetorical question: What would be a better single web visitor – a Mom looking for math tutors for her 5th grade child at $20 per click, or 20 visitors at $1 per click who simply won't convert?
Good digital marketing needs to do 3 things really well:
Weed out bad traffic

Optimize bids to generate good traffic

Provide flawless reporting and tracking that allows for #1 and #2 to happen
The Opportunity
In the same way that a storefront attracts car and foot traffic, a good web presence can do the same for online visitors. Here's an example for a web user searching for a "Math Tutor Beverly Hills" with two types of results; which is more likely to get clicked on?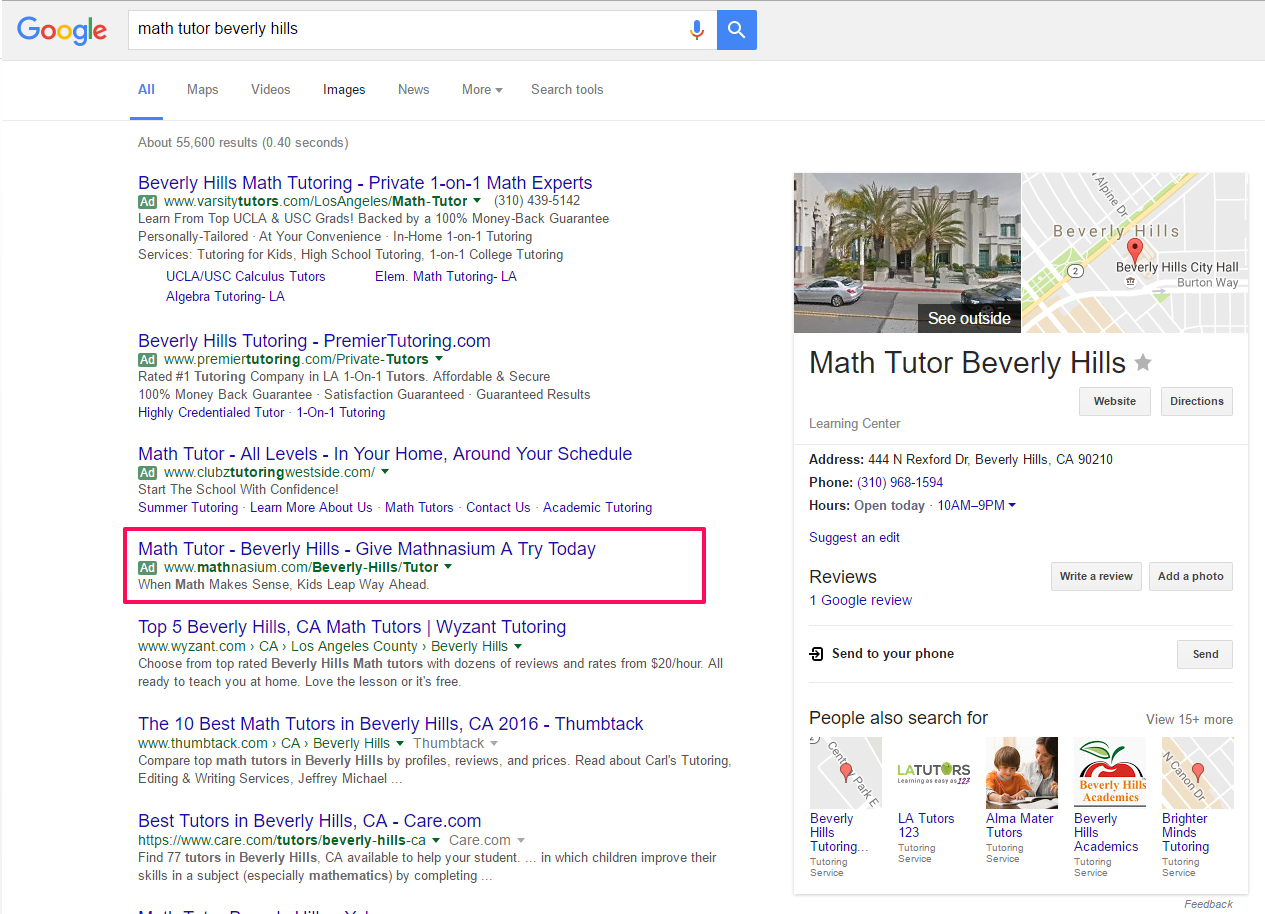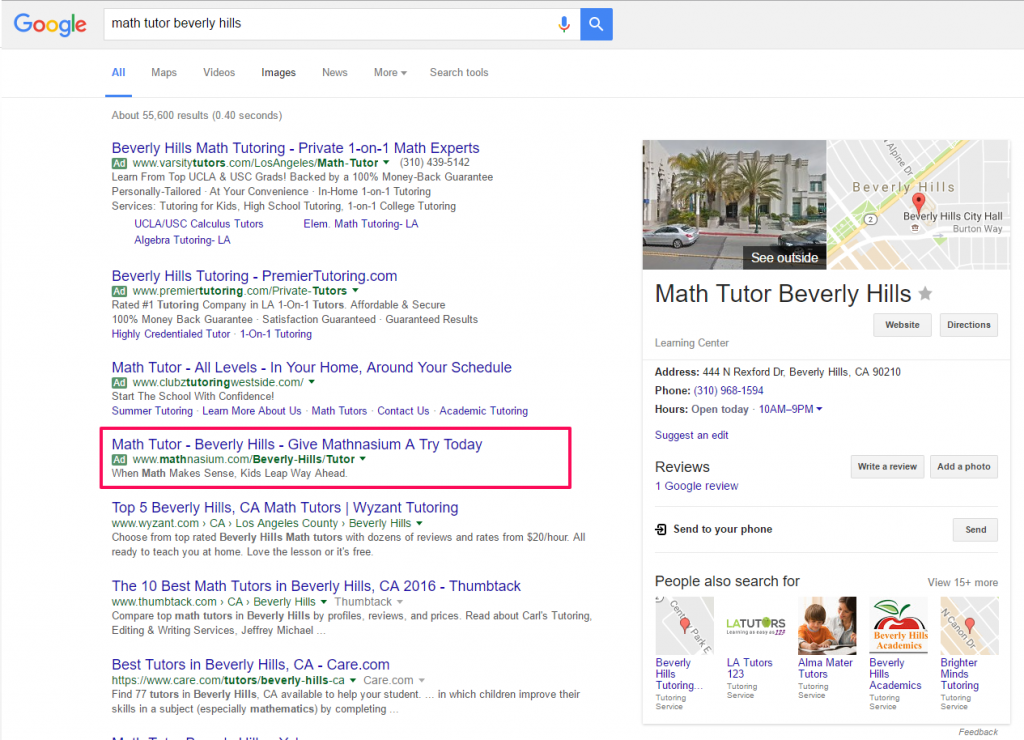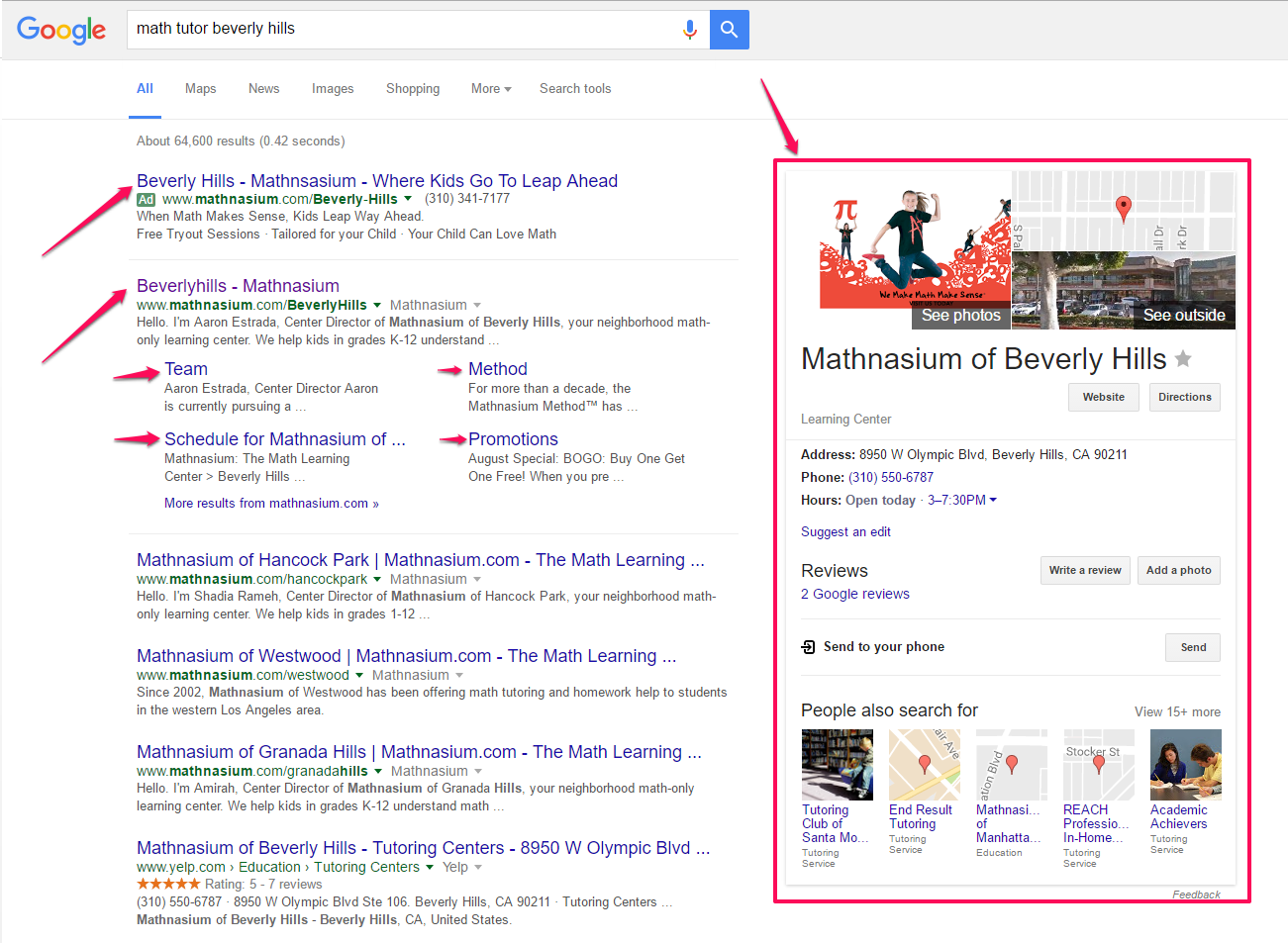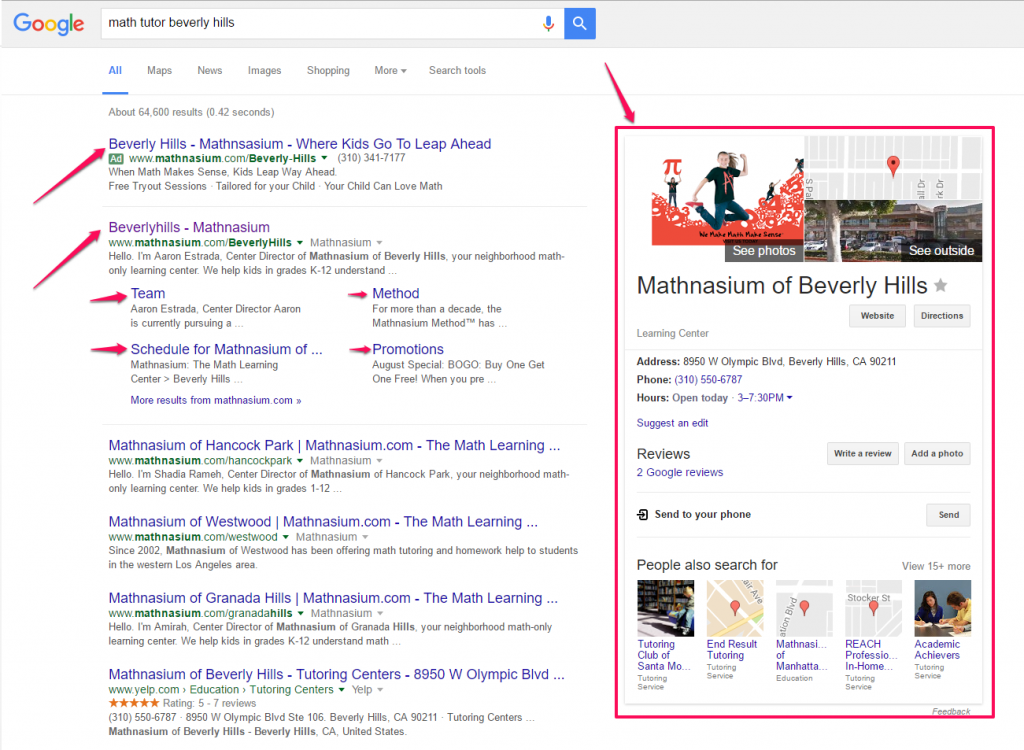 Clearly, the second example wins.  It has a lot more coverage and will result in a much higher Click-Through-Rate (CTR) and more web traffic. That can be achieved with properly optimized PPC and SEO campaigns which will be outlined in the 6 tips below:
The 6 Tips
PPC – It Pays to be local!
Local PPC has 1 GIANT advantage to national campaigns: local campaigns (when built correctly) are usually more relevant, have a higher CTR(click through rate) – and therefore can produce a better CPA (cost-per-lead in a Center's case). Let's take the following example:
 A web user located in Beverly Hills searches for: "math tutor" – and sees the following two ads:


As you would imagine, the ad that mentions the city name in the title of the ad has a click-through-rate of over 8% vs 1.09%. A 733% increase in CTR!
Tip #1 – Always use both the city name and Mathnsaium in your ad!
SEO – NAP consistency is VERY VERY Important
The diagram shows the various factors that affect a locations' SEO presence. Over 50% of those factors are related to having consistent NAP (Name, Address, Phone) information across multiple citations. Citation are websites that reference your local business's name, address and phone number (even if they don't link to them); sites like a Yellow Pages or a local chamber of commerce listing. Citations are among the KEY factors for ranking organically on Google and Bing – they validate that a business is actually the real thing and is part of the local community it is trying to rank for.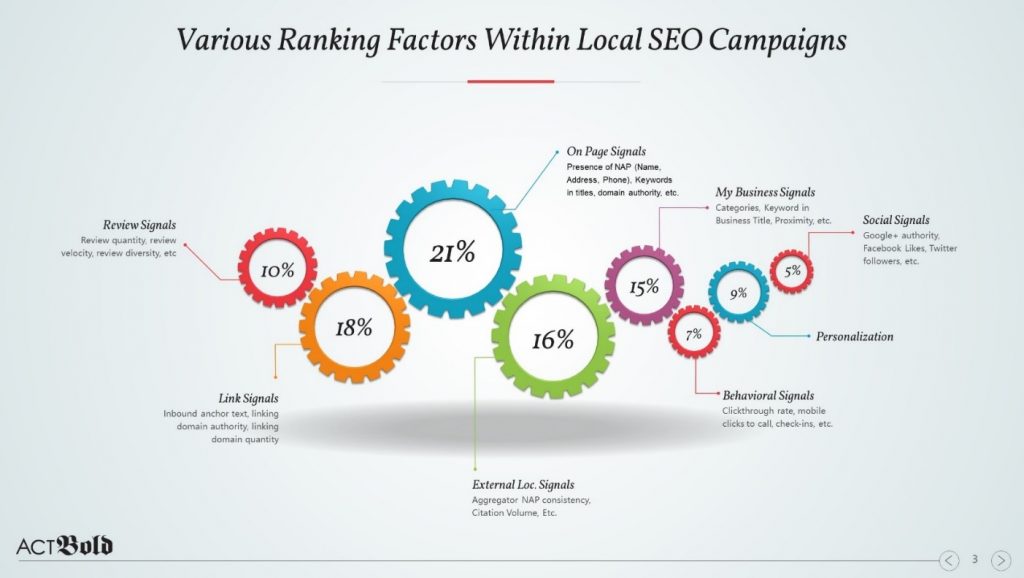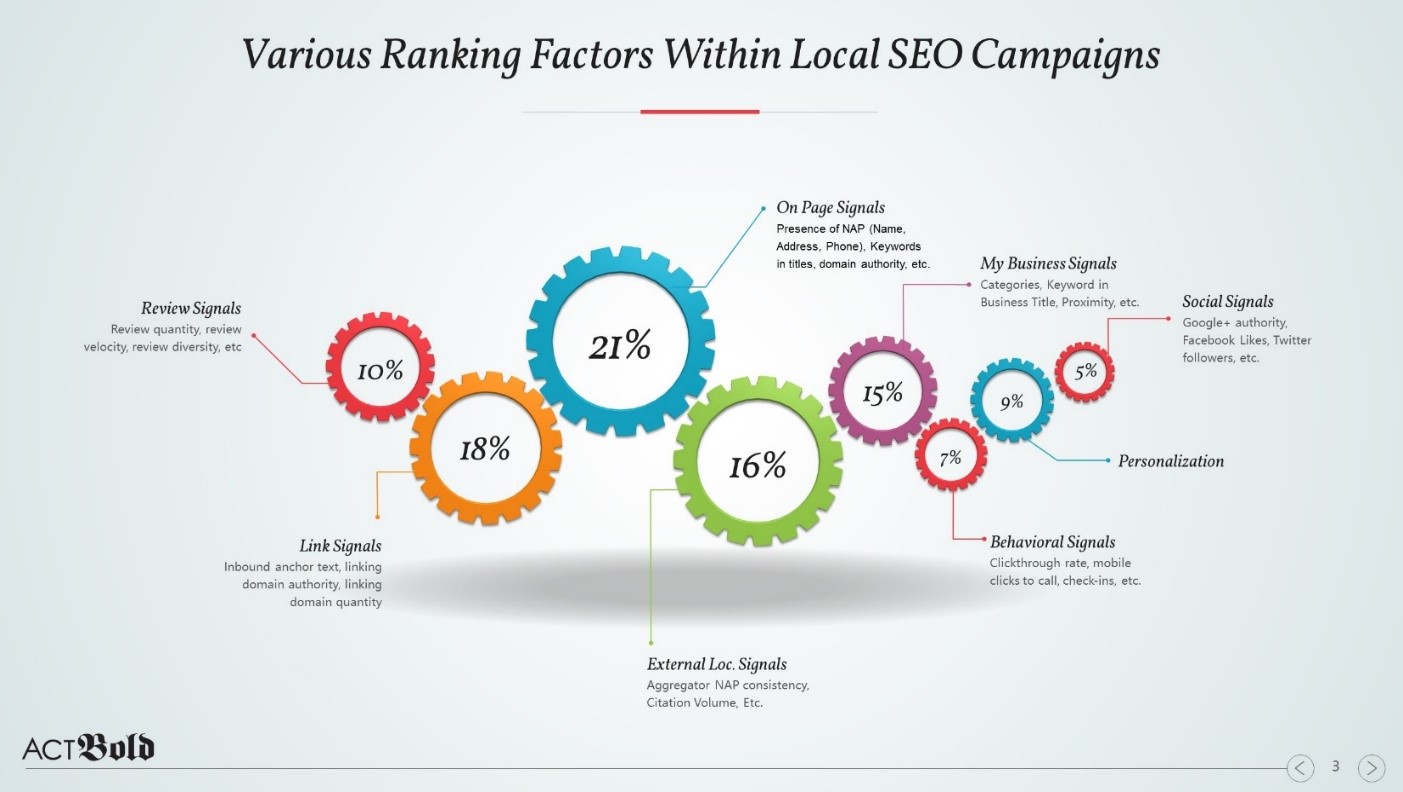 Tip #2 – Register your center name in the following directories: https://moz.com/learn/local/citations-by-city
Tracking, Tracking and More Tracking
As we mentioned at the start of this article: the single greatest advantage of digital marketing is the transparency in dollars spent with a near perfect ability to track ROI. All digital marketers should know what a lead is worth to them in terms of $ value, and measure the Cost-Per-Lead vs Lead Value.
Sample PPC report
| | | | | | | | | | |
| --- | --- | --- | --- | --- | --- | --- | --- | --- | --- |
| KPI's | April '16 | May '16 | June '16 | July '16 | Aug '16 | Sep '16 | Last 12 Months | | Reference Guide |
| Visitors | 25 | 33 | 35 | 41 | 45 | 46 | 179 | | Number of visitors that went to your learning center page |
| Impressions | 380 | 410 | 510 | 650 | 680 | 781 | 2,630 | | Number of Users that saw your ad and phone number |
| CTR | 6.58% | 8.05% | 6.86% | 6.31% | 6.62% | 5.89% | 6.81% | | The % of Users that clicked on your ads |
| Avg CPC | $1.81 | $10.61 | $8.14 | $5.98 | $7.89 | $7.57 | $9.13 | | The average cost per visitor |
| Costs | $400.00 | $350.00 | $285.00 | $245.00 | $355.00 | $348.00 | 1,635.00 | | Total dollars spent |
| Total Phone Leads | 5 | 9 | 11 | 8 | 9 | 5 | 42 | | Total number of phone call leads |
| Total Web Leads | 3 | 2 | 2 | 4 | 6 | 11 | 17 | | Total number of web leads |
| Total Leads | 8 | 11 | 13 | 12 | 15 | 16 | 59 | | Total Leads |
| Cost Per Lead | $50.00 | $31.82 | $21.92 | $20.42 | $23.67 | $21.75 | $27.71 | | Cost per Lead |
| Lead Conversion Rate | 32.00% | 33.33% | 37.14% | 29.27% | 33.33% | 34.78% | 32.96% | | Lead conversion rate on your learning center page |
Tip # 3 – Know what a lead is worth and make sure lead tracking is in place for all digital marketing campaigns. The Above report is a sample PPC report that provides the necessary information.
Target your competition

Your competition has brand equity and using those keywords as a targeting method identifies highly targeted users at a relatively low CPA. Below is a sample list of keywords a Mathnasium Center can target:
+sylvan +center
"sylvan math"
"sylvan"
[kumom]
 +sylvan +math
"bricks 4 kids"
 +kuman +math
[bricksforkids]
"bricks for kids"
"kumon math"
[kumon math]
"sullivan learning center"
"bricks for kidz"
[bricks 4 kidz]
[sylvan math]
 +bricks +4 +kids
 +kumon +math
"kumon"
 +kumon +center
 +bricks +4 +kidz
Tip #4 – Use the above keywords in a competition campaign in Google and Bing
Geographic and Demographic targeting is not only possible, but super important
As we mentioned, properly running localized campaigns has a big advantage over national campaigns. Campaigns that are built out and managed correctly have a much higher relevancy score with Google led by a higher Click-Through-Rate (CTR) and more relevant ad copy. However, localized campaigns are also in danger of wasted ad spend by targeting the wrong group of people who might visit the Center website, but then convert on a different center's page because the geo-targeting wasn't built out correctly.
Let's take the following example:
 A Mom living in Beverly Hills searches for Math Tutor
A properly built out campaign for a Learning Center in Beverly Hills would target that person using Geo-Targeting. Meaning, only someone in a specific geographic range of the center would see that ad. The image below shows the proper settings in AdWords for such a case: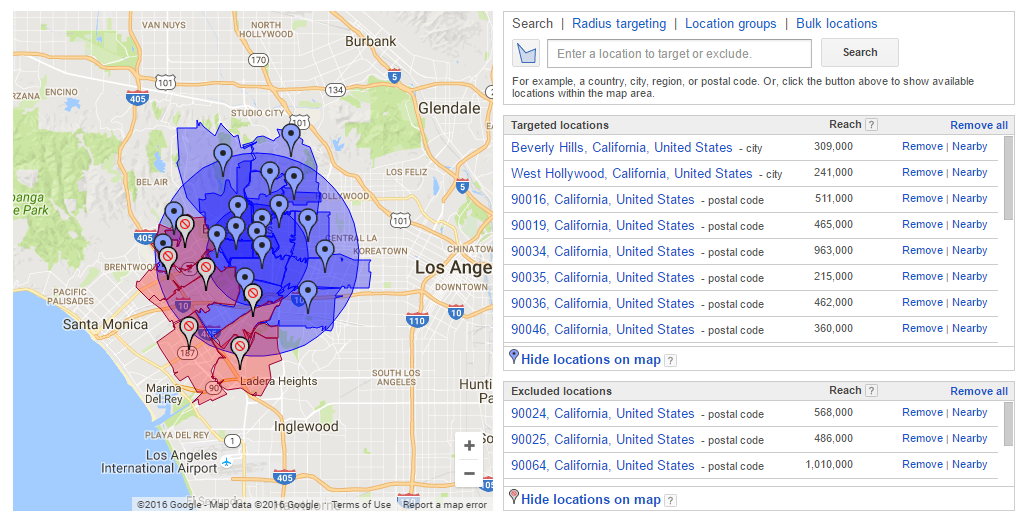 The Blue sections show the exact locations this Center should target and also excludes specific regions close to Beverly Hills that have other Mathnasium Centers in it to prevent wasted ad spend.
Now let's take the following example:
A Mom living in Beverly Hills searches for Math Tutor Santa Monica –
The Beverly Hills center's ad should NOT show up in this case, although she resides in Beverly Hills. This is done by creating an effective negative keyword list (as sees in the image below) that includes local city names that are closer to other centers.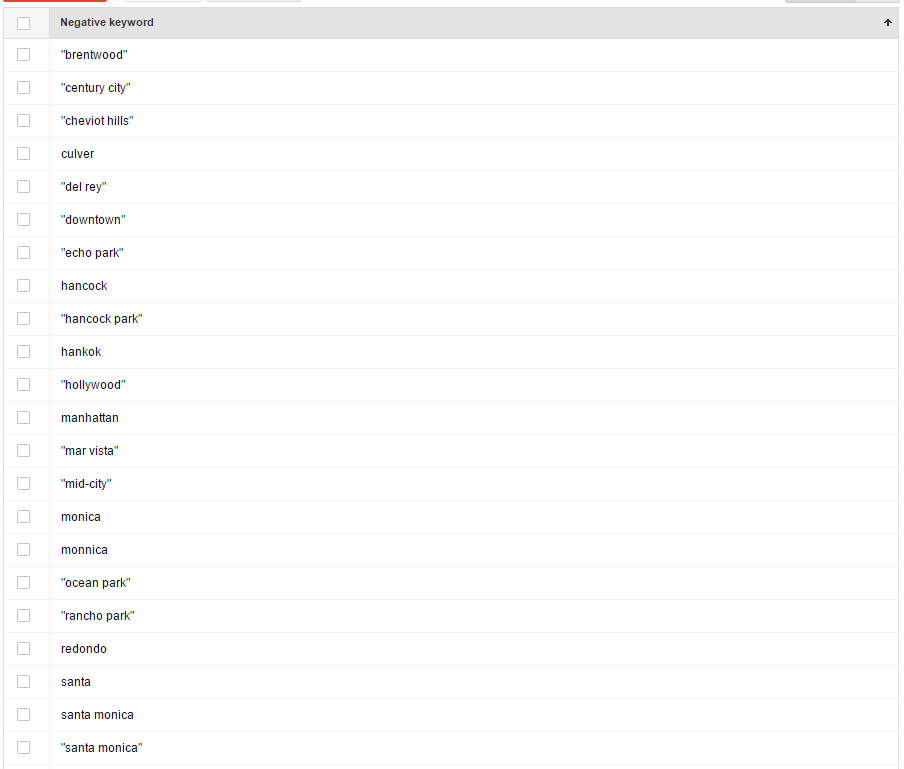 Tip #5 – Always use geo-targeting and negative keywords to hyper-target your web visitors.
 BING!
Bing represents 33% of search traffic – This means that 1 out of 3 searches happens on Bing. So while Google is the biggest and greatest – there are some pretty awesome advantages to Bing:

Bing has a lower cost-per-click than Google:
Bing provides excellent phone support to anyone spending at least $500 per month – Google provides the same support when you spend about $50,000 per month…
Bing has better device targeting: tablet traffic only can be excluded which can't be done with Google PPC
Bing Ads allow users to adjust bids based on MSN users' gender and age – a huge advantage to local Mathnasium Centers.
Account Set Up and Maintenance is fairly similar to Google – with a few user interface differences. In short – Bing might be the perfect outlet to grow lead volume at a lower price per lead than Google.
Tip #6 – Use Bing to increase lead volume
  The above tips should be a great start to acquiring more online leads that translate into in-store customers. As mentioned above – every Mathnasium is set up to succeed as long as the right online visitors are targeted and tracked.
Questions?